Each year the holiday season drops in on autumn like an unexpected guest, even though we know it's coming. Our calendars are open, but somehow we always end up saying, "I can't believe it's already here!" Then we begin the business of planning—parties, school events, dinner menus, and of course, shopping lists.
This year, the team at Coletti invites you to do some of your holiday shopping with us. In doing so, you not only give useful gifts for coffee lovers, but also—and far more importantly—your purchases will literally help save lives. We give all profits from sales to the fight against human trafficking. Learn more about how we got started on this particular mission here.
To help you along on your shopping journey, we've put together a small gift guide from the products available on our website. Before we get to that, please take a few minutes to learn about the crisis of human trafficking. By purchasing our products, you allow us to give to organizations doing the hard work on the ground to rescue these victims and help them discover a better life and brighter futures.
What Is Human Trafficking?
According to the U.S. Department of Homeland Security, human trafficking is "modern-day slavery and involves the use of force, fraud, or coercion to obtain some type of labor or commercial sex act." There's a common misconception that human trafficking only happens in poorer countries, when in fact it's a crisis right here in the United States as well. It's happening all over the country, at times right under our noses.
Because victims are often afraid to come forward, getting them to safety is made more difficult. When victims do escape or are rescued, then a new journey begins: recovering from their wounds, both physical and mental, returning to their families; and, for adult victims, regaining the strength to take care of themselves and rebuild their lives.
Shop Coletti Coffee This Holiday
Although our cause is serious, our blog is a place to share our love of coffee in positive, fun ways. All of life's good things are on full display at Christmas: food, family, and fun. We hope you'll enjoy this gift list and feel inspired to make a purchase to support our mission.
[Gift Set 1]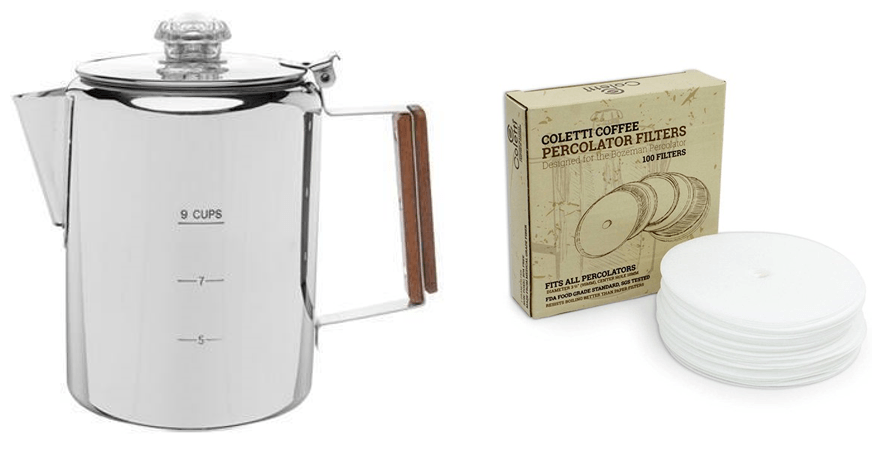 Bozeman Percolator. If you think perc'd coffee is a thing of the past, think again. Our signature product, this 9-cup percolator coffee pot has a sleek, modern design in stainless steel, wood, and glass. And it makes a mean pot of Joe.
Bozeman Percolator Coffee Filters. These 3.5-inch premium disc filters will separate the good from the bad, unless you prefer your coffee crunchy. (We suggest saving the crunch for later, when you're dipping a fat biscotti into your cup.) With a pack of 100, you'll be prepped to brew for months.
[Gift Set 2]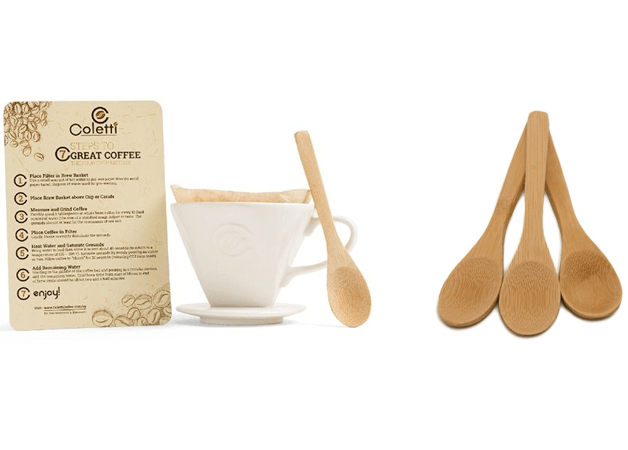 Vienna Pour-Over Ceramic Coffee Dripper Set. Pour-over coffee is trending, but don't let that scare you off. Manual coffee brewing has been around for much, much longer than man buns. Plus it makes one of the most flavorful cups of coffee out there. This set comes with 40 cone filters.
Bamboo Mini Spoons. How should you stir your hip pour-over coffee? With an environmentally friendly bamboo spoon, of course. Ours come in a set of three, so you can make pour-overs for two of your friends.
[Gift Set 3]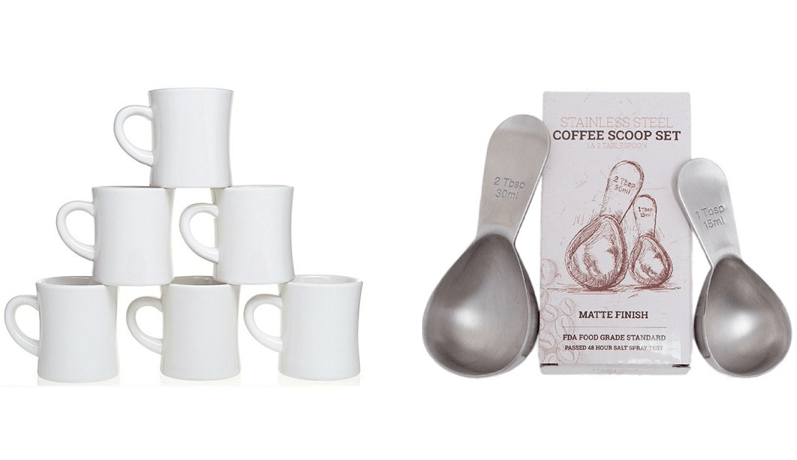 Vintage Dinner Mugs. This set of six bright-white, dishwasher- and microwave-friendly mugs will be your go-to for every cup. There's something about a short, thick-walled coffee cup that feels just right. They keep your coffee hot and fit perfectly between two hands when you need an extra warm up.
Coffee Scoop Set. This set of 1- and 2-tablespoon scoops is a useful and long-lasting gift. The thick stainless steel is durable, while the design is ergonomic. These spoons also look better on the counter than the plastic ones that come with your coffeemaker.
What combo will your coffee-loving friends like best? We think our diner mugs would also pair very nicely with our bamboo coffee spoons!
OR check out our newest product, the extra-large-capacity Stainless Steel Campfire Percolator, the Coletti Butte. With a specially-designed handle perfect for hanging over the campfire, the Coletti Butte is sure to be a winner for tent, RV, and cabin campers - and backyard enthusiasts alike!