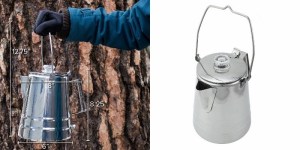 Introducing the newest addition to our product line, the Coletti Butte coffee percolator. We named it after Butte, Montana, a city that represents the rugged outdoor-adventure type of lifestyle this coffeemaker serves. Butte is a city of open fields and wooded hills with numerous options for outdoor adventure, like hiking, boating, fishing, and camping. Anything you can do in Butte, you can make even better with a cup of coffee brewed over an open flame under the wide open sky.
We're nature lovers at Coletti, and we know for most people like us, coffee is a big part of the outdoors experience. Serving the outdoor-adventure crowd is important to us, and we're always looking to expand our product offerings with that in mind. So we set out to design and produce the ideal campfire coffee maker. We don't mean to brag, but we think the Coletti Butte nails it.
If you're looking for a stainless steel coffee percolator to take on the trail, check out the specs on the Butte. It hits all the marks for making coffee to satisfy lovers of the great outdoors!
Campfire Percolator. Steel wire handle offers convenience for hanging over campfires. Great for destination camping, weekends at the cabin, or the backyard fire-pit. Also works great on a stovetop, grill, or grate. Its versatility makes it a must have for your camping and outdoor entertainment needs at home.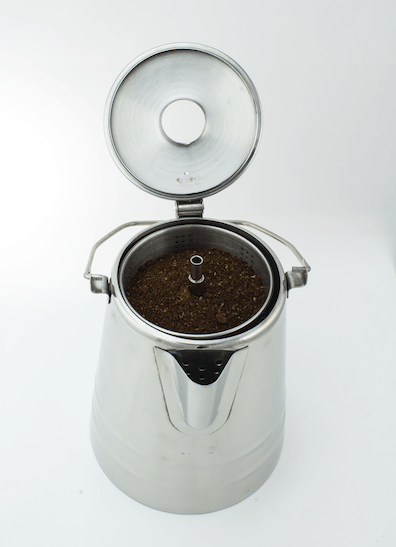 No Aluminum or Plastic. Named after the rugged city of Butte, this beautiful yet rugged camping percolator is made of 18/8 stainless steel, with a glass preview knob, and is dishwasher safe. Take it on all your outings with no worries of breakage or denting.
Large Capacity. Whether you need to make a big pot for the entire camp or a few cups for you and your hiking partner, this large coffee percolator has the capacity to meet all your needs. Pack the Butte 14-cup camping percolator coffee maker for your next outdoor adventure.
Durable. Made of heavy gauge, food-grade 18/8 stainless steel for excellent resistance to corrosion. The Butte's rugged construction can withstand all the rigors of camping and outdoor percolator use.
We're so excited to offer the new Coletti Butte. All the components of a classic trail coffee maker went into its design, plus updates to match contemporary tastes and needs. We think it's the best coffee percolator for any outdoors event, whether far from home or in your backyard. Enjoy the Butte on your next outing!